Citizens Speak ... Leaders Respond
Chamber coordinates unprecedented push for tech center funding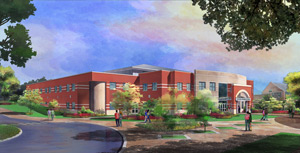 During the recent Kentucky General Assembly, the Greater Owensboro Chamber of Commerce mounted an unprecedented advocacy effort to secure $14 million to construct phase two of the $27 million Advanced Technology Center on the campus of Owensboro Community and Technical College.
Launched at the Chamber's February 2 Rooster Booster breakfast, the "3-2-1" campaign (third largest city, phase two, number one priority) generated 15,000 emails to Gov. Ernie Fletcher and state legislators, plus numerous letters and phone calls. Personalized letters and campaign buttons were sent to legislators and later to members of the House-Senate Conference Committee. Another 60 local project advocates attended a special western Kentucky reception in Frankfort on February 9.
Ranked as the number one state legislative priority of the Chamber, Economic Development Corporation, city and county government, the tech center will include up-to-date training facilities, business incubator, administrative offices and classrooms for Western Kentucky University – Owensboro and more.
In the 2006 session, tech center funding was included in the House of Representatives budget, omitted in the Senate version, and placed back in the budget during the House-Senate Conference Committee.
Gov. Fletcher vetoes the project
On April 24, Gov. Fletcher announced that he cut $370 million from the state budget, including a line-item veto of the Owensboro Advanced Technology Center.
More than 2,000 projects had been proposed in a budget that included $2.38 billion in new debt.
"The right dose (of projects) can give us energy, but too much can cause irreparable harm… We tried to make it balanced…It's not no. It's just not yet," Fletcher said.
Higher education projects that were funded include:
State Universities
Eastern Kentucky University Science/Education Buildings
$58 million
Kentucky State University Hall Renovation
5 million
Morehead State University Health/Science Centers
26 million
Murray State University Science Complex
15 million
Murray State University Residential Hall
13 million
Northern Kentucky University Center for Infomatics
35 million
Northern Kentucky University Student Union /Parking Garage
33 million
University of Kentucky Biological/Pharmaceutical Complex
80 million
University of Kentucky Hospital Building
150 million
University of Louisville Health Sciences Center
70 million
University of Louisville Center for Predictive Medicine
13 million
Western Kentucky University Education Building
35 million
Western Kentucky University Academic/Athletic Renovation
25 million

Community and Technical Colleges

Gateway Advanced Manufacturing Tech Center
28 million
West Kentucky Emerging Technology Center
16 million
Somerset Allied Health/Technical Building
14 million
Jefferson County Science/Allied Health Building
26 million
Ashland Tech Drive Campus – Phase III
18 million
Elizabethtown Regional Postsecondary Education Center
20 million
Bluegrass Advanced Manufacturing Center
1 million
Maysville Administrative Building
5 million
Springfield Community and Technical College*
14 million
McCreary Center
6 million
Other funded projects include:
College of the Cumberland Pharmacy School
11 million
Kentucky Horse Park Arena
36 million
Louisville Arena
75 million