How should we pay for the hurricanes?
After the Gulf Coast received direct hits from three major hurricanes within two months, the government was hit with the daunting task of rebuilding cities and restoring livelihoods. But where does the money come from?
Storm after storm
| | |
| --- | --- |
| | NEW ORLEANS (Aug. 29, 2005) - Flooded roadways can be seen as the Coast Guard conducts initial Hurricane Katrina damage assessment. U.S. Coast Guard photograph by Petty Officer 2nd Class Kyle Niemi |
On Aug. 29, 2005, Hurricane Katrina struck the central Gulf Coast near New Orleans with 175 mile per hour winds and torrential rains. Storm surges breached the Lake Pontchartrain levee, flooding a major American city.
More than a million people were displaced, creating an economic and humanitarian crisis not seen since the Great Depression. Five million people were without power. The city's infrastructure, public safety and essential services were in a state of disarray. Business districts and neighborhoods were devastated and uninhabitable. To date, there have been 1,277 fatalities; more are expected.
On Sept. 24, Hurricane Rita delivered a second punch, damaging drilling rigs, flooding refineries and disrupting vital oil and gas facilities in south Texas and Louisiana. To replenish supplies, President Bush released crude oil from the Strategic Petroleum Reserve and eased environmental standards to expedite production.
Then on Oct. 24, Hurricane Wilma slashed through south Florida, with hurricane-force winds resulting in flooding from Naples to Miami.
Unprecedented devastation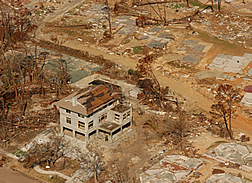 Pass Christian, Ms., October 4, 2005 -- Aerial photo shows the only surviving home in
the area that was completely destroyed by Hurricane Katrina. Foundations are all that
remain of most of the neighboring homes. John Fleck/FEMA
Hurricane Katrina's 90,000 square mile swath through Louisiana, Mississippi, and Alabama made it the most costly natural disaster in U.S. history. The estimated cost to assist people with emergency needs, relocate displaced persons, clean up damage, rebuild a major city and coastal areas, and bring businesses and jobs back to the region: $200 billion.
Damage estimates from Hurricane Rita are $8 billion and up to $9 billion for Hurricane Wilma.
These costs are beyond the capability of the state and local governments of the region, whose tax base and economies have been ravaged by the storms. Private insurance will absorb some of the burden, but much of the damage and rebuilding challenge is beyond the role and scope of insurance coverage. Responding to these needs is a test of our national character. Philanthropy and volunteerism have been impressive amid a bureaucratic emergency response fraught with problems. President Bush and congressional leaders assured the region that the federal government will do "whatever it takes" to complete the task.
Where can the money come from?
The problem is this: Our federal government was deep in hock before Katrina, Rita or Wilma wreaked havoc along these coastal areas. The White House Office of Management and Budget projected a $333 billion deficit for fiscal 2005, $341 billion for fiscal 2006. Bring on a war in Iraq, homeland security pressures following 9-11, an incipient Medicare prescription drug program, and a federal treasury undermined by tax cuts, and it's no wonder that citizens question how our federal government can continue to spend beyond its means.
How should our federal government respond to this challenge? How can we be both compassionate and fiscally responsible? We examine five ways to pay for this reconstruction:
Spend Less in Iraq
Delay, Reduce or Cancel Tax Cuts
Cut Domestic Spending
Levy a Special Tax
Allow the Economy to Absorb the Cost