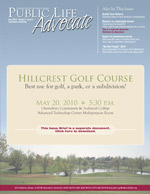 Volume 7 Issue 2
Health Care Reform
Opposing views of two Kentucky Congressmen
The following points/counterpoints on health care reform from two Kentucky Congressmen (including Owensboro-Daviess County's representative) were extracted from recently published articles or statements released by them.
We need health care reform. We need to make health care more affordable and more accessible. However, I oppose the bill the majority pushed through Congress.
Since Teddy Roosevelt first called for health reform, leaders from both sides of the aisle have worked to fix a broken health care system.

---

It is just a massive spending bill costing $1.2 trillion over the next 10 years.
It will lower the national debt by $1.3 trillion over the next two decades.

---

The legislation does not address the No. 1 issue associated with health care reform – lowering costs for all Americans.
Without health reform, by 2016 annual health care premiums for the average family of four will be $24,000.

---

Seniors will be getting a half-trillion dollar cut in Medicare, including a $202.3 billion cut to the Medicare Advantage program. For those who live on a fixed income, the possibility of having to pay more or see their benefits reduced is very worrisome.
Much of the savings from insurance reform will be invested into Medicare with a six percent increase. The Trust Fund will be extended from 2007 to 2026. The bill also offers free preventive and wellness care for seniors, increases coordination of care, and older citizens will retain their right to see the doctor of their choice.

Prescription drug costs will also be lower for the elderly as we permanently close the "doughnut hole" in Medicare Part D that left millions of seniors with no drug coverage. There will be a $250 rebate this year and 50 percent discounts on name brand drugs beginning in 2011.

---

Beginning in 2014, Americans will be required to buy health insurance or pay a penalty. Families will see higher taxes and insurance premiums, including the 46 percent of families who make less than $66,150 who will be forced to pay the individual mandate penalty.
32 million Americans (10,560 in Owensboro-Daviess County) will receive new, private health coverage. When reform is fully implemented, the ranks of Americans with health insurance will increase to more than 95 percent. 176,000 Louisville families (23,200 Owensboro-Daviess County families) will also receive tax credits and stipends to help pay for the health care plan of their choosing.

---

The new law includes a tax on health insurance providers that will cause costs to go up and subjects more income to the Medicare tax, taking even more money out of the pockets of middle class families.

An estimated 16,500 new IRS auditors, agents and other employees may be needed to collect the hundreds of billions of dollars in new taxes and penalties levied on the American people.
The new law bans insurance companies from denying benefits, hitting policyholders with huge premium increases and cancelling a policy because of "pre-existing" conditions.

---

There are $52 billion in new taxes and fines on employers who cannot afford to pay their employees' health care or provide government approved plans, imposed at a time when unemployment is 9.7 percent.

Small businesses, who are already struggling in this economy, will now have a hard time hiring new employees, continuing to provide for the ones they currently have and an even more difficult time maintaining part-time staff, leaving those most in need of jobs with fewer options.
The majority of small businesses saw their premiums more than double this decade. More than 28 million uninsured Americans now own or work for small businesses (approximately 9,240 in Owensboro-Daviess County). The new law will remove this enormous burden from business by making insurance affordable for their employees and immediately providing tax credits to employers who choose to provide coverage.

---

The liberal majority in Congress was not willing to work in a bi-partisan way or listen to the will of the American people. The only bi-partisan thing about this bill was the vote against it.
The new law includes many Republican ideas: the removal of the public option, allowing insurance companies to compete across state lines, tort reform and abortion restrictions.

---

The reconciliation bill only made matters worse; it increased cuts to Medicare, raised taxes even more, cut critical payments to community hospitals and included a government takeover of student loans.
The reconciliation process removed special deals for individual states and reflected a hard fought compromise that addresses the most pressing needs of the American people.

---

I supported an alternative to this bill that focused first on reducing the cost of health care for every American. Our solution showed that it is achievable to address many of the health care issues Americans are concerned about without such terrible consequences.

Our solution, which included coverage for individuals with pre-existing conditions, allowed parents to keep their children on their health plans through age 25, tackled meaningful medical malpractice reform and allowed Americans to purchase insurance across state lines, did so without raising taxes, destroying jobs, cutting Medicare, or burdening our children and grandchildren with trillions in new debt.
Health reform is based on American free market principles, will guarantee adequate and affordable health care to every citizen, rein in costs, expand consumer choice and lift the burden from small businesses.
Sources:
Guthrie, Brett "Health care reform package overspends, doesn't deliver," Messenger-Inquirer, April 18, 2010 and "Health care law does more harm than good," Bowling Green Daily News, April 3, 2010.
Yarmuth, John "Congressman Yarmuth's Statement on Health Care Reform," April 19, 2010 (http://yarmuth.house.gov/index.cfm?sectionid=111&itemid=603)
---
---
Results of online survey: Your ideal downtown
To a great extent, the successful transformation of downtown Owensboro will have everything to do with our ability to attract a concentration of appealing businesses, services and attractions into existing buildings or new construction projects in the downtown area.
A total of 306 of our 1,178 readers (26 percent) responded to the survey. Who or what would they like to see occupy space or build new in our downtown?
Respondents indicated their preferences from 95 different ideas in six categories listed on the survey. They were also allowed to add their own ideas – and they did emphatically, suggesting 120 additional ideas.
Major public facilities (e.g., convention center, amphitheater, tennis complex, minor league baseball/multi-purpose stadium, water park, carousel, parks, etc.) were not the focus of the survey.
What were the most popular ideas overall?

1. Bookstore
2. Wine and cheese
3. Bakery
4. Old Spaghetti Factory
5. IMAX theater
6. Joe's Crab Shack
7. Ice cream/soda fountain
8. Seafood restaurant
9. Coffeeshop
10. Local/Kentucky crafts
11. Newsstand
12. Comedy club
13. Great Harvest
14. Art gallery
15. Cinemas
16. Deli
17. Italian restaurant
18. Jazz club
19. Panera Bread
20. Starbucks
21. Bars
22. Gift shop
23. Steakhouse
24. Antiques
25. Pangea

What were the most popular ideas not listed – ideas that respondents added to the list on their own?

1. Indian restaurant
2. Old Chicago Pizza
3. Micro brewery & pub
4. P.J. Chang
5. Barnes & Noble
6. Baseball stadium
7. Cheesecake Factory
8. Longhorn Steakhouse
9. Old Navy
10. Outback restaurant
11. Skate park
12. Turoni's restaurant
13. Bonefish restaurant
14. Chili's restaurant
15. Chipotle
16. Dave & Busters
17. Demos
18. Dollar theater
19. Dunkin' Donuts
20. Greek restaurant
21. Independent film arthouse
22. Joseph Beth Booksellers
23. Texas Roadhouse
24. U of L gifts
97 additional ideas were suggested
What were the most popular ideas by category?

Food & Drink
1. Bakery
2. Ice cream/soda fountain
3. Seafood restaurant
4. Coffeeshop
5. Deli
6. Italian restaurant
7. Steakhouse
8. Bar-b-q restaurant
9. Bagels
10. Food court
11. Pizza
12. Diner
13. Thai restaurant
14. Candy
15. Food vendors
16. Mexican restaurant
17. Burger
18. Donuts
19. Japanese restaurant
20. Cakes and pies
21. Chinese restaurant
22. Pancakes
23. Cafeteria

RETAIL
1. Bookstore
2. Wine and cheese
3. Local/Kentucky crafts
4. Newsstand
5. Art gallery
6. Gift shop
7. Antiques
8. Women's apparel
9. Street vendors
10. Greeting cards and gifts

11. Music
12. Grocery
13. Flowers
14. Men's apparel
15. Liquor
16. Children's apparel
17. Outlet mall
18. Shoes
19. Jewelry
20. Toys
21. Framing
22. Cigar store
23. Video/DVD
24. Furniture
25. UK gifts
26. Electronics
27. Pets

ENTERTAINMENT
1. IMAX theater
2. Comedy club
3. Cinemas
4. Jazz club
5. Bars
6. Bluegrass club
7. Bowling

SERVICES
1. Pharmacy
2. Barber shop
3. Hair salon
4. Fitness club
5. Dry cleaners
6. Photography
7. Shoe repair
8. Computers
Specific local/area businesses/attractions you would like to see expand or relocate to downtown

1. Great Harvest
2. Panera Bread
3. Starbucks Coffee
4. Pangea
5. City Subs and Salads
6. Reid's
7. Old Hickory
8. Baker's Rack
9. Trunnel's
10. Moonlite Bar-b-q
11. Excursion's
12. The Earle
13. McDonald's
14. Allshops Hardware
15. Eight Ball

Specific out of town businesses/attractions you would like to see expand to downtown Owensboro

1. Old Spaghetti Factory
2. Joe's Crab Shack
3. Rafferty's
4. Maker's Mark bar
5. Ruth Chris Steak House
6. Einstein Bagel
7. Carmichael Books
8. Jos. A. Bank
9. Matt's General Store
10. Bristol
11. Ear-X-Tacy
12. Men's Wearhouse
What the survey may tell us
The survey indicates a strong interest in downtown: a 26 percent response on any survey is unusual and suggests high hopes for the future of downtown Owensboro.
Responses suggest activities that would enhance downtown vitality day and night, a gathering place and community focal point with a special interest in restaurants that could complement the expanded Smother's Park, RiverPark Center, museums, future convention center and more.
Respondents placed a high value on both local and chain businesses. Specialty retail seems to have an important place in this vision, without suggesting that downtown can compete with malls, major strip centers and big box stores.
There was also a sense that downtown, as a neighborhood, needs a convenient cluster of services, from hair salons to fitness centers, grocery store to pharmacies and dry cleaners.
If a market can be substantiated for even a portion of the food and drink, entertainment, retail and services endorsed for downtown through the survey, a fundamental challenge will be to find appealing space to attract and accommodate these uses. Moreover, the mixing and clustering of these uses, the proximity to other appealing and complementary tenants, and the predictability connected with nearby properties will be essential elements to a downtown business development and tenant mix plan.
This may underscore the importance of infill development, relocation of street front parking, and the transition of first floor space to retail, restaurant and services to attract and serve the general public. An effective downtown association will also be important in order to coordinate hours, promotions and more.
Total Online Survey Vote Tally

Bookstore
Wine and cheese
Bakery
Old Spaghetti Factory
IMAX theater
Joe's Crab Shack
Ice cream/soda fountain
Seafood
Coffeeshop
Local/Kentucky crafts
Newsstand
Comedy club
Great Harvest
Art gallery
Cinemas
Deli
Italian
Jazz club
Panera Bread
Starbucks Coffee
Bars
Gift shop
Steakhouse
Antiques
Pangea
Rafferty's
City Subs and Salads
Women's apparel
Pharmacy
Barber Shop
Bar-b-q
Greeting cards and gifts
Reid's
Street vendors
Bagels
Maker's Mark bar
Music
Grocery
Hair salon
Flowers
Old Hickory
Baker's Rack
Bluegrass club
Food court
Pizza
Fitness club
Men's apparel
Liquor
Ruth Chris Steak House
Diner
Children's apparel
Thai
Dry cleaners
Outlet mall
Photography
Einstein Bagel
Carmichael Books
Trunnel's
Candy
Food vendors
Burger
Mexican
Shoes
Jewelry
Shoe repair
Moonlite
Donuts
Japanese
Cakes and pies
Excursions
The Earle
Chinese
Computers
McDonald's
Pancakes
Toys
Cigar store
Framing
Bowling
Bristol
Jos. A. Bank
Matt's General Store
Ear X Tacy
Cafeteria
Furniture
Video/DVD
Electronics
UK gifts
Men's Wearhouse
Allshop's Hardware
Pets
Sporting goods
Eight Ball
Hardware
Cosmetics
Office supply
Indian
Old Chicago Pizza
Micro brewery & pub
P J Chang
Barnes & Noble
Baseball stadium
Cheesecake Factory
Longhorn Steakhouse
Old Navy
Outback
Skate park
Turoni's
199
175
161
161
158
155
149
148
145
145
145
139
139
134
133
133
132
131
129
126
124
121
119
115
115
111
110
104
99
98
98
98
98
98
97
97
97
96
96
95
93
91
91
90
87
84
84
83
81
80
73
73
71
71
71
70
69
69
67
65
57
57
57
54
52
51
50
50
49
49
48
47
45
45
44
43
42
42
40
40
40
40
38
37
35
35
33
33
32
31
29
28
27
26
24
24
10
7
5
4
3
3
3
3
3
3
3
3

Bonefish
Chili's
Chipotle
Dave & Busters
Demos
Dollar theatre
Dunkin' Donuts
Greek
Independent film arthouse
Joseph Beth Booksellers
Texas Road House
U of L gifts
2nd Texas Roadhouse
50s & 60s music- not in a bar
Acropolis
Amphitheater (concerts)
Aquarium
Arcade/Kid Zone
AT&T
Beyond the Brim
Biaggi's
Big River Grill
Bike Sales and Rentals
Blue Grass Store
Book and Music Exchange
Borders
Buca di Beppo
Candles, soaps
Carrabbas Italian Grill
Cell phone store
Cheeseburger in Paradise
Chick-fil-a
Chico's
Cold Stone Creamery
Collectibles (i.e. old maps, postcards, prints)
Copy shop
Country music/variety show venue
Country store
Dave & Buster's activity
Day spa
Daymar College Group corporate offices
DDI
Dillards
Drive-In theater
DSW Shoes
Fazoli's
Film festival
Fresh air garden dining
Gambling Spot
Gameworks
Gap
H&M Clothing
Home cooked meals
Huge upgrade to children's museum
I like existing restaurants
Imports with clothing
Indie Books
Irish Rover
Jillian's
Krispy Kreme
Large farmers market with local produce
Lic's
Live music in restaurants (rock, 70s, easy listening
Live music venues
Logan's Roadhouse
Macaroni Grill
Mediterranean
Nashville Music Scene
Neighborhood grocery
New Age Store
Niko's
No smoking venues
Noah's bagels
Organic food store
Organic Foods Market
Outdoors store (fishing, hiking)
Pancake Pantry
Plenty of free parking lots or garages
Pool Hall
Post Office
Pretty club room for meetings of 40 people
Public Works Theatre
Rainforest Café
Red Robin
Red Star Tavern
Rocky Mountain Chocolate Factory
Ruby Tuesday
Sambuca's
Sandwich shop
Shahi Dawat Royal Indian Cuisine
Shaker's Pizza
Skatepark
Small book store
Small business
Smoke-free bar
Specialty boutiques
Specialty retail: yarn and crochet
Sprouts Food Store
Subway
Tea room
Techno-80s Club
The Crème
Tim Horton's
Trader Joe's
Upscale boutiques
Vera Bradley
Whole foods
Wyndall's Wonder Whip
2
2
2
2
2
2
2
2
2
2
2
2
1
1
1
1
1
1
1
1
1
1
1
1
1
1
1
1
1
1
1
1
1
1
1
1
1
1
1
1
1
1
1
1
1
1
1
1
1
1
1
1
1
1
1
1
1
1
1
1
1
1
1
1
1
1
1
1
1
1
1
1
1
1
1
1
1
1
1
1
1
1
1
1
1
1
1
1
1
1
1
1
1
1
1
1
1
1
1
1
1
1
1
1
1
1
1
1


---
"We the People" 2010
What topics would you like to see discussed?
Due to the positive response and encouragement from participants in the 2007 "We the People" AmericaSpeaks 21st Century Town Meeting®, plans are underway for a follow-up mega event in October of this year.
Broad community support and participation is vital to a successful meeting. Project Manager Shelly Nichols has been recruiting volunteers to help with the overall planning, content and program development, outreach, technology, marketing, logistics and more.
Our 2007 event focused on five topics: education; community and economic development; environment; health and social services; and government.
Several focus group exercises have been held to identify the topic(s) that will be examined during this year's event. Additional focus group meetings are scheduled, to be followed by meetings with community leaders, surveys, email blasts, Facebook promotions and other steps to ensure that broad public participation characterizes the topic selection process.
There are many ways you can be involved: Contact Shelly Nichols at 685-2652 or shelly.nichols@plfo.org.
In the meantime, save the date:
October 23, 2010
Owensboro Sportscenter l 8:00 a.m. – 4:30 p.m.
"We the People" 2010 l AmericaSpeaks 21st Century Town Meeting®