Back Issues
The following issues of the Advocate are not available for online viewing but can be downloaded and viewed with Adobe Reader.
January 2005 - Volume 2, Issue 1
---
Framing the Issue: One County, Three Governments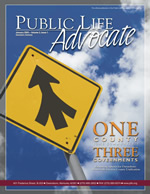 Since the governments of Lexington and Fayette County, Kentucky consolidated in 1973, there has been sporadic, growing interest in a comparable restructuring in Owensboro-Daviess County. Community leaders pointed to consolidation as a means to increased efficiency, fairness, and economic development.
Citizens Embrace Community Vision:
PRIDE Workshops Examine 29 Concepts
For more than three years, local citizens have mobilized in impressive fashion to promote higher standards and greater public input in matters that affect the aesthetic appeal of our community. PRIDE, now 500 members strong, has become a force to be reckoned with.
Is Our Democracy Threatened?
The Task Force on Inequality and American Democracy, formed under the auspices of the 14,000-member American Political Science Association, was charged to review and assess the health and functioning of U.S. democracy in a time of rising inequality. The task force carefully surveyed the evidence about three important, interlinked areas of concern: citizen participation, government responsiveness, and patterns of public policy-making and their consequences.
November 2004 - Volume 1, Issue 6
---
And the Poor Get Poorer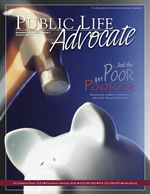 An umbrella organization has been formed to address the financial needs of people living in poverty and the so-called working poor in Daviess County. The purpose of the Owensboro-Daviess
County Asset Building Coalition is to coordinate
the services of existing agencies which offer financial help to low-income families and encourage the development of new services where necessary.
Panther Creek (or Ditch?)
To maximize crop yield and improve drainage, an increasing number of farmers, landowners, and agri-business interests take it upon themselves – and have pressured our Daviess County govern-ment – to dredge, channelize and straighten many tributaries in our
area, including Panther Creek.
Framing the Issue: What Should County Government Do With Its Excess Downtown Property?
In October, 2000, Daviess County Fiscal Court took advantage of an opportunity to purchase properties near the courthouse owned by Al Arnold. The County paid the appraised value, $485,000, with surplus cash. The justification: the need for additional public and employee parking; future expansion of county government office space.
October 2004 - Volume 1, Issue 5
---
Unexpected Obligations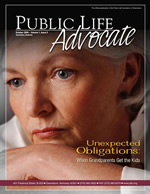 When parents are drug addicted, experts say, child neglect or even abuse often follows. The family can implode. And extended family members – most often grandparents – wind up raising young children at a time when their own health and energy levels are no longer equal to the stresses of caring for children in crisis.
Presidential candidatesHealth Care Plans
Along with concerns over national security and the state of the economy, health care issues are among the most disturbing to Americans: our poor state of health compared to other industrialized nations; unaffordable care, insurance, and prescription drugs; the growing number of uninsured and underinsured (most of whom are working).
Framing the Issue: Maximizing Riverfront Property: Which is the Best Strategy?
With funds flowing from Washington, the Owensboro Riverfront Master Plan is coming together incrementally. But leaders acknowledge that it will take more than these public sector investments to fulfill the dream. Private investment is vital, and how to bring that about is the question.
September 2004 - Volume 1, Issue 4
---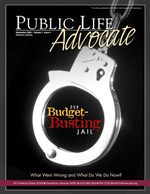 Our Budget-Busting Jail
At least $1 million of county government's $1.4 million deficit is due to the Daviess County Detention Center. The Advocate examines how we got in the mess we're in and how we might get out of it.
Kids with Adult Problems
The last time her mother got pregnant, Lena was angry – already this 11-year-old Foust Elementary School student was caring for three brothers and sisters. One more would mean even less time for homework, much less extracurricular activities or fun with friends.
Framing the Issue: Should the Library Board have the Authority to levy Taxes?
Opponents of the proposal to build a new Daviess County Public Library say it's not about the value of the library or the latest tax increase proposal, but the authority of a non-elected body to levy taxes. Library supporters say it's about keeping politics out of this vital community institution. To help readers come to judgment, we set forth the case each side offers.
August 2004 - Volume 1, Issue 3
---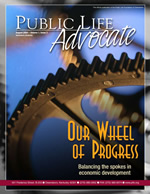 Our Wheel of Progress: Balancing the spokes in economic development
The strategies that we set in motion toward a stronger employment base in Owensboro-Daviess County serve as spokes in our wheel of progress. Are we well-prepared for the road ahead?
The Advocate examines the issue that tops all others in surveys and political campaigns: the need for
better paying jobs. It's time to get past the political rhetoric and engage in substantive dialogue on this
key community challenge.
Coping with substance abuse:
The effects of addiction on family members
As community leaders deal with the problem of substance abuse in Daviess County, they necessarily focus on the numbers of alcoholics and addicts needing treatment and the resources required to meet the challenge. However experts say it's also important to remember that substance abuse wreaks havoc in the addict's immediate family and often can lead to emotional and financial ruin on successive generations.
Framing the Issue: Should we pass a clean air ordinance?
While the link between tobacco use and disease appears to be a debate of the past, communities – including our own – are now wrestling with how far regulations should go to protect the nonsmoking majority from the dangers of secondhand smoke.
July 2004 - Volume 1, Issue 2
---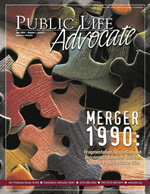 Merger 1990: Fragmentation, Distortion and Disconnect Between Citizens and the Public-Private Elite
If you think discussions on the "casino issue" or a local occupational tax are sometimes heated, just ask Owensboroans what they remember regarding the vote on consolidated government in the fall of 1990. Ah yes, a classic struggle between the Hatfields and the McCoys, the North versus the South, Owensboro Catholic versus Owensboro High, the Cats versus the Cards, the city versus the county. Will the same thing happen if merger is proposed again? Or will the divisive dynamics of 1990 give way to a more thoughtful approach?
Midwives: A Community Resource We Want to Lose?
During the past nine months, this community has puzzlingly
restructured a system of health care for pregnant women that
had:
• worked well for almost seven years
• brought hundreds of healthy babies to at-risk mothers, and
• cost taxpayers thousands of dollars less than the system that replaced it.
The change left two certified nurse midwives unemployed and
two others overqualified for the limited duties they still perform
in four counties served by the Green River District Health
Department.
Framing the Issue: County-Wide Occupational Tax Proposal
As our community grows, demand for county government
services is up, while sources of revenue are mostly down.
One possible solution: a county-wide occupational tax.

June 2004 - Volume 1, Issue 1
---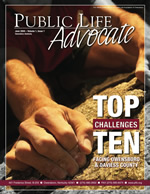 Substance Abuse: Seeking common ground toward a community solution
The debate over using money from the hospital reorganization to prevent and treat substance abuse has raised questions about the size of Daviess County's problem,what's being done about it,and what else might help.
Framing the Issue: Our Public Library - Is it time for a larger, new facility?
The Daviess County Library Board of Trustees
released preliminary design plans for a new
Frederica Street facility on May 19, 2004. To
finance the project, a library tax increase is
required and will likely be considered in July or
August 2004. This will coincide with the decision
to swap properties with Owensboro Public
Schools, owners of the site preferred by the
library board. To help citizens come to an
informed judgment about the proposal, the Public
Life Foundation offers the following issue brief.