Big Dreams, Big Decisions :
A citizen guide to prioritizing proposed community projects
Marina/Boat Ramp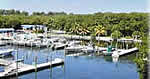 The Riverfront Master Plan calls for the existing boat ramp at the foot of Frederica Street to be converted to park and civic space. English Park would be the site for a larger boat ramp with an inland marina, slips, and more. A marina near the Triad Industrial Park is also an option.
Less expensive options include a boat ramp only at English Park or a boat ramp on the former Chevron property near Daviess County Middle School.
Capacity: 75-150 slips
Cost Estimate:
Boat Ramp (Chevron site) $1.8 million
Marina (English Park) $9.8 million
Marina (Triad Park) $14.1 million
Financing Options:
Federal Funds (Riverfront Master Plan)
Economic Impact: construction jobs, recurring operating jobs, out of town visitors, annual local purchasing, increased boating equipment purchases/rentals
Taxes generated: sales tax, payroll tax, hotel taxes, other taxes
Advantages:
A quality marina is a natural feature of a riverfront plan
Necessary to bring attention back to the river
Will attract out-of-town visitors
Will boost our community image
Could attract spin-off investments (housing, restaurants)
English Park is underutilized
Would complement stadium at English Park
Disadvantages:
Construction/financing cost
Boaters represent a small segment of the community
May require an operating subsidy