Big Dreams, Big Decisions :
A citizen guide to prioritizing proposed community projects
Rec-Plex/Ice Rink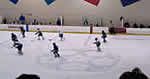 A centerpiece of the city-county parks master plan, this proposal includes an ice rink, gymnasium, indoor pool-water park, exercise machines, multi-purpose rooms and support space. Our existing ice rink has long outlived its projected life and can only be used in cold weather months. Our two public swimming pools are only open during the summer. The Rec-Plex would allow year-round use of the rink and pool.
Note: An ice rink could be incorporated into an arena project, and Executive Inn owner John Bays has expressed interest in building a water park with private funds.
Capacity: 120,000-130,000 square feet
Cost Estimate:
$18 million (Rec-Plex)
$4.2 million (rink only)
($3 million if part of the arena)
Potential Uses: recreation, fitness activities and classes, sports: hockey, swimming, basketball, volleyball, and more
Financing Options:
Government Bonds
ODCH Wellness Funds
State/Federal Grant
Est. Debt Service:
$1.4 million per year (@ 4.6% over 20 years)*
(If $18 million is 100% financed)
Operating subsidy: to be determined
Economic Impact: construction jobs, construction purchasing, permanent operating jobs, annual payroll/payroll taxes, out-of-town visitors, annual local purchasing
Taxes generated: sales tax, payroll tax, hotel taxes, other taxes
*current rates and terms for municipal borrowing
Advantages:
Ice rink needs to be replaced with year round facility
May enable us to attract a minor league hockey team
Will provide first year-round public swimming facility
Facilities and programs will improve fitness
Enhances community image
Disadvantages:
Construction/financing cost
Will likely require an operating subsidy
Rec-Plex may compete with YMCA, HealthPark, church and private fitness clubs