Big Dreams, Big Decisions :
A citizen guide to prioritizing proposed community projects
Stadium for Baseball/Concerts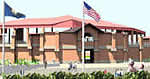 In November 2004, the Bring Back Baseball Committee proposed a public-private partnership for a new stadium that would attract a professional baseball team in the expanding Frontier League, as well as concerts, festivals, and other community events. The committee presented summaries of a market study, site plans, renderings, and a financing plan involving a locally-controlled nonprofit corporation as owner, tax exempt bonds, a surcharge on all revenues, loan guarantee, and a contribution of property and infrastructure.
In the final days of the 2005 General Assembly, state government authorized tax increment financing (TIF) for a comparable (yet more ambitious) Bowling Green project. Through the TIF tool that was adopted, a percentage of increases in state tax revenue in a designated district can be applied to the financing of qualifying projects. Community officials are exploring potential applications for the baseball stadium as well as other community projects.
Capacity:
4,000 seats (baseball), 2,000 fixed, 2,000 grass
7,900 seats (concerts and festivals)
Cost Estimate: $9.75 million
Includes: $1 million value for land, Infrastructure, Team Franchise, & Start-up Costs
Infrastructure estimates:
$425 thousand English Park site
$1.7 million Highway 54 site
Proposed Role of City Government:
Provide land and infrastructure
Establish TIF District
Proposed Role of County Government:
Levy surcharge on all sales at stadium
$3 million loan guarantee against surcharge revenue
Proposed Role of Local Nonprofit Board: Secure $1.5 million (local lenders)
Borrow $4.25 million (tax-exempt bonds)
supported by state TIF
Users:
Frontier League Professional Baseball Team
Community Baseball Teams
Out-of-Town Baseball Teams (tournaments)
Concerts and Festivals
Assemblies and Community Events
Economic Impact:
construction jobs, construction purchasing, permanent operating jobs, annual payroll/payroll taxes, out-of-town visitors, annual local purchasing
Taxes generated:
sales tax, payroll tax, hotel taxes, other taxes
Advantages (English Park):
Stand alone project with minimal city/county liability, value for low cost
Multi-purpose facility will accommodate baseball, concerts, festivals, and more
Low-cost family entertainment
Boost to economy: jobs, purchasing, tourism
Will generate spin-off business and neighborhood revitalization
Hometown team source of community pride
Breathe life into underutilized riverfront park
Enhance the riverfront effort from RiverPark Center to English Park
Disadvantages (English Park):
Would require gift of city park
Parking challenges
Potential noise issues
Limited visibility and accessibility