Big Dreams, Big Decisions :
A citizen guide to prioritizing proposed community projects
Convention Center - Parking Garage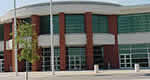 To sustain Owensboro's tourism and convention business, new or expanded Executive Inn convention facilities and an adjoining parking garage could be essential. We do not have the capacity to accommodate large exhibitions (a new nearby arena would expand capacity by 40-50,000 square feet), and existing facilities have notable deficiencies and limitations.
By including parking for the GRADD transit program, county government hopes to qualify for a federal transportation grant for the parking garage. If built in close proximity to the state building, the state building parking lot could be incorporated into the riverfront master plan.
Note: A convention center and arena could be combined in a multi-purpose structure, reducing space needed for exhibitions.
Capacity:
66,000 square feet convention center
300-space parking garage
Cost Estimate:
$ 8.5 million (convention center)
Costs would reduce by as much as one-third if combined with an arena.
$ 4 million (parking garage)
Potential Uses: trade shows, exhibitions, sporting events, assemblies, conferences
Financing Options:
Government Bonds
Tax Increment Financing (if combined with arena)
Federal or State Grant
Federal Transportation Grant (garage)
Est. Debt Service: $659,122 per year (@ 4.6% over 20 years)* (If convention center 100% financed)
Operating subsidy: $200,000-300,000 per year
Economic Impact: construction jobs, construction purchasing, permanent operating jobs, annual payroll/payroll taxes, out-of-town visitors, annual local purchasing
Taxes generated: sales tax, payroll tax, hotel taxes, other taxes
*current rates and terms for municipal borrowing
Advantages:
Expands our capacity for conventions, trade shows, exhibitions
A boost to the Executive Inn and other hotels
Increased revenue from hotel-motel tax
Creates jobs (construction, operating) and spin-off business
Boost to downtown
Enhances community image
Disadvantages:
Construction/financing cost
Will likely require an operating subsidy
GRITS bus center may not be a compatible use
Parking garage may be inadequate to serve several projects